16
on: May 19, 2019, 05:06:43 AM
I know I'm late but I just want to relay some feedback and Suggestions in regards to the Identity update, but since theirs allot to cover I'm just going to mention my thoughts on the major parts as well as some questions.
Cosmetics:

Ok so, i'll start by saying I love the Idea of weapons having skins, the best one for me hands down is Iune's Astral Plane weapon skin, that thing blew my mind. Frankly, IF MSE told me that every one will only get one Weapon skin, I'd be ok with it because the ones currently available are mostly all amazing and very well thought out, I love the designer's imagination.
The Character skins are Equally if not far greater in comparison. Rak Mayura's Tribal Hunter skin for example, visually tells a completely different story when looking at him. He went from looking like a very friendly, highly experienced hunter, to looking like a brutal, no nonsense outlaw (Very well done). And the Same could be said for the remaining 3 new additions. I'm personally happy to see Aneska's original look available for purchase.
My only gripe is in Valeria's character appearances (Minor). The skin Space Tourist itself is amazing but I always thought she was a more serious character with her Lore description of her, Love for decapitation and not to mention those vampire teeth. This skin seems too gimmicky and possibly out of character for my taste. (But don't mind me I'm just being picky.)
Monthly Rewards:
This is an exciting concept to add to the game. I think having long term goals placed ahead of us is a fun carrot to chase. Frankly I thought it was overly generous to give that huge of a reward if done very well at the end but I'm not complaining. But all too soon I was reminded what it felt like to be swarmed by Antagonist and having your rewards swiped from underneath you at every single turn. That aside I'm looking forward to cashing in at the end of the month!
Removing Mission Reward Timer:
It was a subtle thing but not knowing how much time we have left before we lose the chance at a good opportunity or not knowing when one was about to show is kind of frustrating. Was this removed cause their isn't enough space for both the monthly progress bar and the daily timer?
Emotes:
First of all I want to say Thank you for adding the Zoomba Twerk emote, I can here the wallets of all Ginebra mains opening.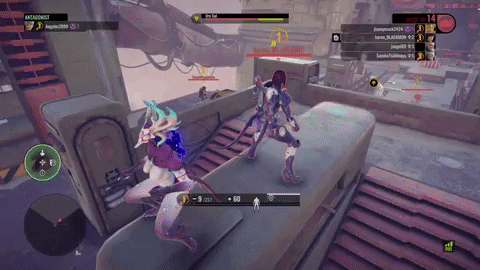 All jokes aside this was a very welcome addition. Placing a Banner feels good when you really want to Rep your Guild (And I noticed Guild emblems are now placed on the Beluga as well, hell yes!). The "Disco Balls" are so fun to use, I get bored hearing the bland background music during most mission and Dropping the Synth Masters emote on the level truly livens things up for its duration.
Melee Weapons:
My god it is so satisfying to kill enemies in new ways, especially in particular (For me) with the Jet Maul. When I'm in a mission with an Antag and I use the Jet Maul to rocket them straight into the floor, man it's so good.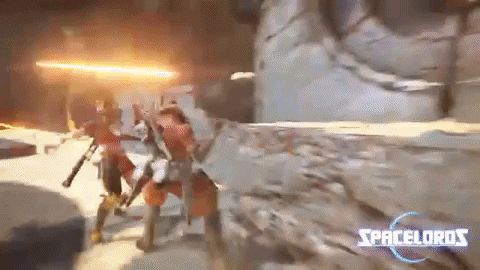 But all that greatness aside, I, my friends and other Players I know of all agree that Raiders should have there own exclusive melee options Like:
*Having Loaht partially transform as he savagely attacks with a disfigured body.
*Valeria spinning gracefully with a leg kick into an elbow uppercut and the final hit is a leg trip that opens up a portal below the falling enemy which impales them with a mechanical Tentical.
*Doldren warps with each strike with his last being a shot to the head as he chuckles.
*Ayana Kwena starts her 1st strike by leaping backwards leaving a bomb, the 2nd is an automatic tether pull and the last is a round-house kick.
Level #999:
Understandable but regrettable, not being able to see my actual level now is disheartening. The time and effort I put in to reach above than average levels was (at least to me) a large sense of pride. I enjoyed being past level 300 and wore it like a badge.
Featured Player:
I have to say, It feels good when you get to be the MVP at the end of a mission, emoting during it and having the Guild Flag behind our character is the Icing on the Cake. I found myself and other players competing to see who can get it in the end. If I can suggest adding something to this feature, it would be to somehow allow other players to cheer the winner on. When playing with Randoms during a match and I see someone doing a great job and they get to be the Featured Player at the end, they often don't know they can emote during it and I thought there should be a way to support there victory.
(Also I brought this feature up in the past to be added in the game and I'm honestly happy to see it brought in.
https://www.spacelordsthegame.com/community/index.php?topic=2248.msg10415#msg10415
)
Mission Heads up Feature:
My god thank you for adding this feature. This change goes out to all the new players. Seeing a bright visible signs telling you loud and clear what to do at the start of the segment and every time you respawn in is a breath of fresh air. It doesn't always work but new players are surviving allot more cause of it, nice job guys!
Character Viewer:
Another minor feature, but one I was surprised to see that got the Axe. I had set up a interesting combination of Weapon skin, and characters skin to only find out the feature was out right removed. You cant hide the U.I or Zoom in. Should this see a return could you add the option to test emotes out as well?
(oh and a side note to this, adding a "Preview mode" when not in the store and in a character aesthetic screen would be a nice addition that is better than going all the way in the store and finding the item.)
Status Coins: I like the Idea of have a somewhat of a prestigious currency available to me and I know its too soon but only having the "Disco Balls" as an option for these coins is not enough as much as I love those emotes. The one thing I thought for those things is having Skins and Weapon skins that can only purchasable using said coins like the still Absent Old-Man Lycus Dion skin.
Raider Hideout:
Finally, this is a section of the game that will be missed if I'm going to be honest. I like seeing the different raiders under there associated Factions, it also show every ones grouped faction points all at once which was nice and not to mention showing useful tips on what makes each faction unique. This doesn't have to return but I have an idea to replace it and potentially the entire main Menu.
When selecting the Raider hideout option from the main menu the POV warps into a very large ruin where Harec has made his base. For new players upon entering they will see only the Four available Raiders either Mingling, relaxing or simply waiting for a mission in this room. Lycus Dion can be seen in the corner sitting on a chair listening to his playlist, Harec & Konstantin can be seen gesturing a plan towards each other and Alicia in another location polishing her Shotgun. Every time you return from a mission they will be placed in different spots upon returning.
All locked characters will be grayed out until purchased and can only be previewed in character viewer or rented. When Unlocking a new character like Doldren you will see him him added to the Hideout lurking in the Corner laughing to himself and every new character afterwards will be either alone or mingling with like-minded raiders. Each Raider will be shown wearing the currently equipped loadout which will include there skin and Weapon skins.
Hovering and clicking on a Raider for the very first time automatically shows there Reveal Trailer First (mandatory) which will include the first four Raiders. Afterwards clicking on them will only bring you to the Loadout screens.